NEW FROM SIG SAUER IS THE ULTIMATE 3-GUN COMPETITION AR-15
SIG Sauer, in partnership with Daniel Horner, is releasing the SIG M400-DH3 SDI rifle! Designed by Horner in collaboration with SIG Sauer research and development, this is the rifle that Horner uses in 3-gun and multi-gun competitions. 
Thank you for reading this post, don't forget to follow and signup for notifications!
Daniel Horner is regarded as one of the top multi-gun and 3-gun shooters in the world. Daniel began his professional shooting career as a member of the elite U.S. Army Marksmanship Until rising to become the Coach of the USAMU Action Shooting Team.
During his career was twice selected as the Military Marksmanship Association Soldier of the Year. 
He has captured over 125 championship titles at the world, national, regional, and state level, including 16 Multi-Gun / 3-Gun Championships, 8 Sniper Championships, 2 IDPA National Championships, an IPSC Shotgun National Championship, an NRA World Shooting Championship, and hundreds of additional national and major title wins throughout his career.
The M400-DH3 is precisely set up as Horner uses it in his competition shooting. Over two years of development and refinement, this is an out-of-the-box option for 3-gun and multi-gun shooters looking to have a top-tier rifle straight from the start.
The M400-DH3 Rifle is a SIG Direct Impingement (SDI) aluminum frame rifle with a Cerakote Elite Titanium finish with the DH3 fully adjustable competition stock and a 2-stage adjustable Timney Daniel Horner signature trigger. 
16" fluted stainless 223 WYLDE barrel with a three-chamber compensator for recoil mitigation, low-profile 3-gun handguard with M-LOK mounts for easy accessory attachment, ambidextrous controls including bolt catch/release, and ships with one 30-round magazine.
Will this make you a top-level competition shooter? No, but it will give you one of the core tools needed to do so.
SPECS:
Caliber: 223REM or 5.56 (223 WYLDE barrel)
Overall length: 34.5 inches
Overall height: 7.5 inches
Overall width: 2.5 inches
Barrel length: 16 inches
Barrel twist: 1:8
Weight (w/magazine): 7lbs.
MSRP: $1,840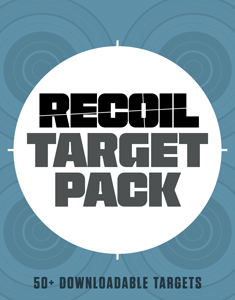 NEXT STEP: Download Your Free Target Pack from RECOIL
For years, RECOIL magazine has treated its readers to a full-size (sometimes full color!) shooting target tucked into each big issue. Now we've compiled over 50 of our most popular targets into this one digital PDF download. From handgun drills to AR-15 practice, these 50+ targets have you covered. Print off as many as you like (ammo not included).
Click here to get IMMEDIATE ACCESS to a digital PDF of this target pack!