A magazine will make or break the reliability more than any other part of a semi-automatic firearm. For over 50 years, Ed Brown has been a gold standard in the 1911 world and has consistently delivered some of the highest quality magazines on the market.
Thank you for reading this post, don't forget to follow and signup for notifications!
While they still produce some of the finest 1911s you can find, they are also expanding into other fields and taking their craftsmanship to new heights. 
The Shield magazine is the first in the expansion of their Performance Magazines from exclusively 1911 to other platforms.
These new magazines hold 8-rounds and are made from stainless steel with a high polish finish. They have a slightly extended body and a filler to blend perfectly with the pistol grip.
While this is only one of several new products Ed Brown is bringing to market this year, this is a significant advantage for the thousands of people that carry a Smith & Wesson M&P Shield as their daily carry firearm.
The standard magazines for the M&P are well known for their durability and dependability, but improving both is never a bad thing.
MSRP for the new magazines is $35 and carries a lifetime warranty on the tube and follower.
These are not compatible with Shield Plus or Shield EZ models.
Sales and Marketing Director John May said, "As we continue to expand our parts and accessories, it is clear why Ed Brown has been the leader. We continue to use our knowledge and experience to serve our customer's needs. If you have not checked out Ed Brown in a while, you had better look again."
For more information, take a look at Ed Brown's website.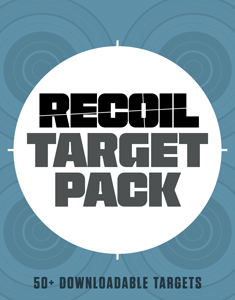 NEXT STEP: Download Your Free Target Pack from RECOIL
For years, RECOIL magazine has treated its readers to a full-size (sometimes full color!) shooting target tucked into each big issue. Now we've compiled over 50 of our most popular targets into this one digital PDF download. From handgun drills to AR-15 practice, these 50+ targets have you covered. Print off as many as you like (ammo not included).
Click here to get IMMEDIATE ACCESS to a digital PDF of this target pack!