New from Arrowhead Tactical Apparel is a fresh addition to their line of CCW comfy EDC wear, the Carrier Training Shorts'! Using a 5" inseam and made from ultralight nylon/spandex, these are reported as being super comfy, lightweight, and give maximum flexibility.
Thank you for reading this post, don't forget to follow and signup for notifications!
What sets these apart from regular training shorts is the Carrier Retention Waistband which adds an EDC capability.
Strong enough to support even full-sized pistols in IWB holsters, the carrier system is discreet internal belt loops that combine with Arrowhead's removable inner retention belt to provide a stable mounting point for holsters in any carry position.
Carrier Training Shorts come in at an MSRP of $58 without the belt or $70 with an inner retention belt.
The belt loops are sized to fit most 1.5" belts if you prefer to use something even stronger.
The carrier Training shorts also have pockets for your phone, keys, and other EDC items.
Available in midnight black, ingot grey, ranger green, and sandman!
Sizes range from S to XL or 26" up to 36" waist.
Finding good ways of carrying a CCW while in shorts or exercising is problematic. Anytime we find a new product that helps make that a little easier, we're excited to try it.
Stay tuned for a complete review of the Arrowhead Carrier Training Shorts'!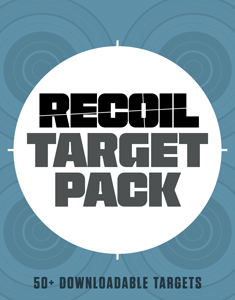 NEXT STEP: Download Your Free Target Pack from RECOIL
For years, RECOIL magazine has treated its readers to a full-size (sometimes full color!) shooting target tucked into each big issue. Now we've compiled over 50 of our most popular targets into this one digital PDF download. From handgun drills to AR-15 practice, these 50+ targets have you covered. Print off as many as you like (ammo not included).
Click here to get IMMEDIATE ACCESS to a digital PDF of this target pack!