What to take your AR pistol to the next level by getting the best CMMG Banshee upgrades and accessories?
Thank you for reading this post, don't forget to follow and signup for notifications!
Adding these CMMG Banshee upgrades and accessories will allow you to get the most out of this AR pistol and unlock its full potential.
This article will cover the best CMMG Banshee upgrades and accessories.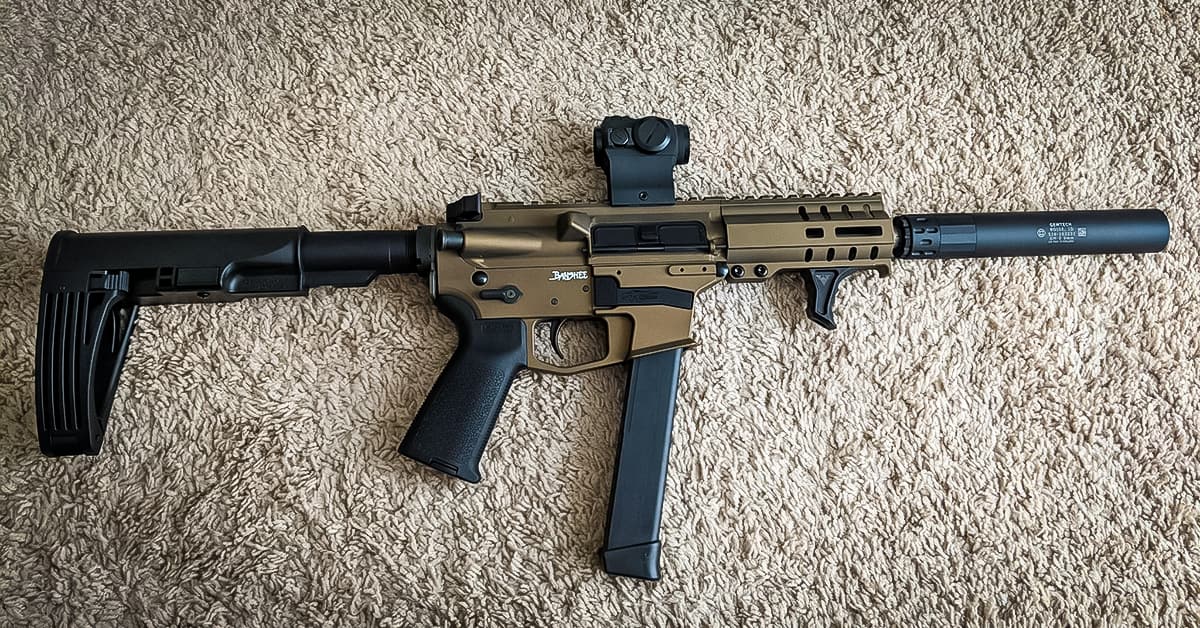 What Is The CMMG Banshee?
The CMMG Banshee is a unique AR pistol because of the bolt carrier group. It uses radial delay blowback, which is optimized for pistol caliber carbines.
On all other pistol caliber carbines, the bolt will begin to move back prematurely when the round goes off. Essentially, this lowers the round's velocity leaving the muzzle.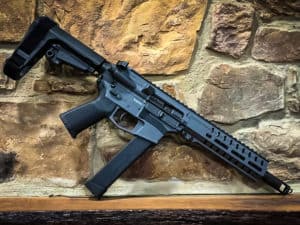 Radial delay blowback prevents this from happening, which is why the CMMG Banshee is one of the best pistol-caliber AR pistols on the market today.
CMMG's Banshee pistols and short barrel rifles (SBRs) offer maximum portability and concealment while maintaining quality, function, and reliability.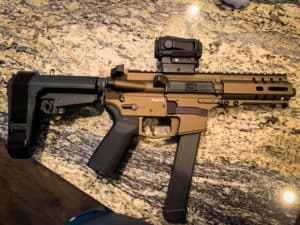 Some of Banshee's primary features is an all-aircraft-grade aluminum receiver. They come with an MLOK free float handguard and cerakote finish and are available in 11 different calibers.
Where To Purchase A CMMG Banshee?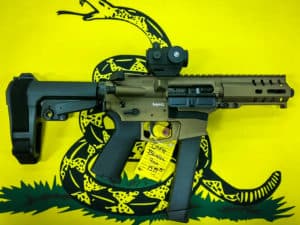 Your best chance of picking up a CMMG Banshee, if you do not already own one, is to order online. Most local gun shops will not have these readily available.
I would be surprised if you find one on the shelf at a gun store. I will provide a link to order the CMMG Banshee online, and you can have it shipped to your local FFL dealer.
Click Here to check the current prices and availability of the CMMG Banshee
CMMG BANSHEE CURRENT MODELS IN PRODUCTION
Click Here to view them on CMMG's website
Click Here to download the owner's manual
Best CMMG Banshee Upgrades & Accessories
All of the parts and modifications mentioned in this article will work for all calibers and variations of the CMMG Banshee. Because the 9mm version is the most popular, I will focus primarily on that model.
If you have a different caliber, these upgrades will also work, but for the compensator, you might have to search for it specifically for your caliber.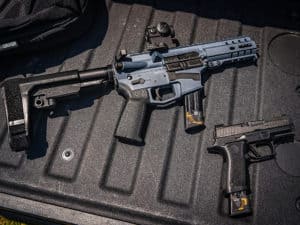 These parts mentioned below are the best CMMG Banshee upgrades and accessories to make this the ultimate self-defense gun. Whether you plan on setting it up for home defense or as a truck gun, these upgrades will allow it to perform at its maximum capacity.
So, these are the best CMMG Banshee upgrades and accessories without further ado.
RELATED ARTICLES
Best CZ Scorpion Upgrades & Accessories
Best Sig MPX Upgrades & Accessories
Best CMMG Banshee Arm Brace
Most of these guns already come with an arm brace installed. If yours does not have an arm brace, then I recommend adding one.
Always follow the current laws because you do not want to accidentally turn your pistol into a short barrel rifle by mistake.
Also, if you already have an arm brace installed, adding a folding attachment will make the firearm even more compact and more easily stored. (Great for a vehicle)
There are two parts that I suggest for an arm brace setup.
SB Tactical SBA3
Law Tactical Folder Adapter
SB Tactical SBA3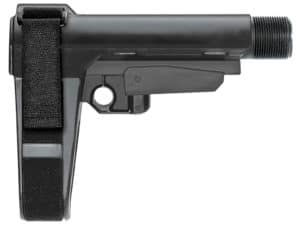 Designed for all platforms capable of accepting a mil-spec carbine receiver extension, the SB Tactical SBA3 is 5-position adjustable, dramatically enhances versatility, and features a minimalist design with an integral, ambidextrous QD sling socket.
This brace requires standard a mil-spec buffer tube to be installed. If you do not already have a buffer tube for any reason, just ensure it is the correct diameter and a 5-position style buffer tube.
The SBA3 is designed to be more minimal and lightweight while still having a solid lockup and being comfortable while shooting.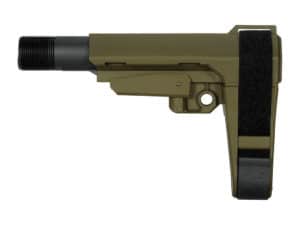 The adjustment lever on the SBA3 is manipulated from the forward position rather than the rear, which is typically found on AR 15 rifle stocks, but it's very easy to adjust and not really a problem at all…
The SBA3 has a Quick Detach (QD) sling swivel near the brace's rear, and you can also attach your sling on either side.
This is one of the best arm braces on the market and is perfect for the CMMG Banshee.
Click Here to check the current prices of the SB Tactical SBA3
Law Tactical Folder Adapter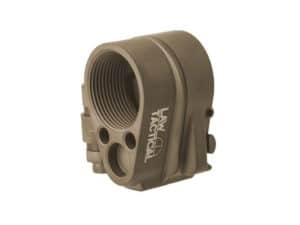 To make the CMMG Banshee even more compact and portable, the Law Tactical Folder Adapter will let you fold your arm brace to the side of the gun.
The Law Tactical AR Folding Stock Adapter Gen 3-M is the first and only folding stock adapter that's compatible with AR platform rifles.
These work with direct impingement or gas piston systems and are a must-have addition for anyone who wishes to transport their firearm inconspicuously or confined within a tight space.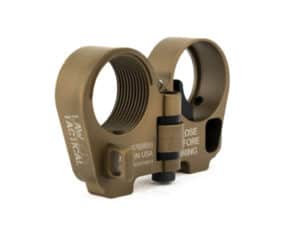 You'll also find that the Law Tactical Steel AR Folding Stock Adapter's low hinge reduces interference when charging your weapon.
To prevent additional damage to the adapter while in the folded position, the Tactical Gen 3-M Folding Stock Adapter is equipped with replaceable O-Rings and is crafted out of 4140 steel, making it incredibly durable. 
Click Here to check the current prices of the Law Tactical Folder Adapter
Best CMMG Banshee Trigger
Not all aftermarket triggers designed for standard ARs will work in this firearm. You have to make sure you get one specifically designed for a 9mm AR. Especially with the CMMG Banshee because of the unique bolt carrier group.
Don't worry because there is a really good trigger that works in this gun.
Elftmann Tactical AR-9 Trigger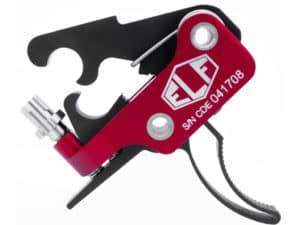 The Elftmann Tactical AR-9 Trigger is a match trigger that has been updated by adding an incremental adjustment knob. The advantage to this knob is to adjust the pull weight in increments by turning it with your finger or any flat tool/coin.
The spring in the housings and the notch on the adjustment screw do not allow the trigger tension to change its settings without manually setting it and will not allow it to back out. If it did back out, the trigger would still function just under 3lbs.
The ELF AR-9 Drop-In Match Trigger has been built for performance. Specifically developed for 9mm and .45 PCC platforms.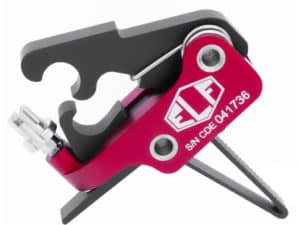 It has a u-shaped captured disconnector that forces a positive hold on the hammer and also has a "pad" that matches up to an extension on the hammer.
The pad is directly in line with the rear trigger pin, so when the hammer is stopped by those matching surfaces, it effectively eliminates the trigger slap from the hammer hitting the disconnector and greatly enhances the feel of the trigger during live fire.
All these performance series triggers utilize aerospace-grade sealed bearings, making for an incredibly smooth and fast trigger pull. Pull weight is so easy to adjust it can be done in seconds without removing the trigger from your lower receiver.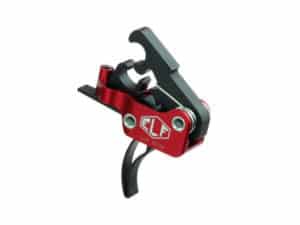 The match trigger may be ordered with a curved or straight shoe.
The amazingly short take-up, glass-rod crisp break, and next to zero over-travel can be compared to the finest custom 1911 triggers.
Adjustability puts you in charge based on your current use. If you are looking for the finest adjustable trigger for your CMMG Banshee, this is the trigger system for you.
Click Here to check the current prices of the Elftmann Tactical AR-9 Trigger
Best CMMG Banshee Handstop
With the limited under rail space on the CMMG Banshee, a hand stop is better than an angled foregrip.
Also, you cannot add a vertical foregrip on a pistol, or else it becomes an SBR, so make sure you do not do that.
Fortis Manufacturing Reversible Shift Handstop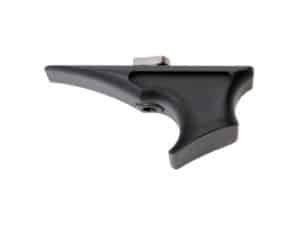 The Fortis Manufacturing Handstop is perfect for the CMMG Banshee because of how low profile it is and because it takes up minimal rail space.
Intended to be extremely lightweight and long-lasting. The shape of the Fortis Manufacturing Reversible Shift Handstop works as a comfortable hand stop when going with the thumb-over method or even when reversed.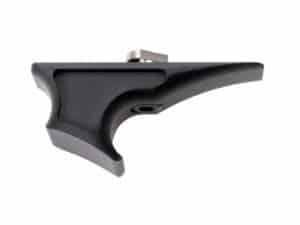 Some prefer their pinky in the groove, while others have found their ring finger to be comfortable.
However you choose to grip it, the Fortis Manufacturing Reversible Shift Handstop allows you to handle the weapon confidently, and the organic design enables you to manipulate the rifle in ways that aren't possible with other hand stop designs.
Click Here to check the current prices of the Fortis Manufacturing Handstop
Best CMMG Banshee Optic
Let's face it, we live in the golden era of firearms, and there are many great options for optics.
Holographic sights, prism scopes, red dots, and LPVOs are some of the best sighting choices, but for a 9mm AR pistol, I recommend a good quality red dot. Nothing too fancy, just something that works.
Best CMMG Banshee Red Dot
If you want the fastest sighting option, then a red dot is the way to go. They are quick and allow you to threat focus/target focus instead of focusing on the front sight like you would on traditional iron sights.
If you want some magnification to be added to your red dot, then a magnifier is a great option and gives you the best of both worlds.
There are three primary red dots that I recommend.
Sig Sauer Romeo 5
Holosun HS507C-X2
Trijicon MRO
Aimpoint T2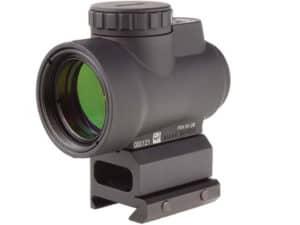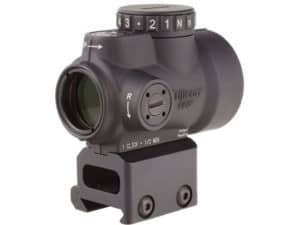 Fast target acquisition
Built to handle the worst
Ambidextrous brightness control
Maintains and holds zero
Easily adjust brightness quickly
Superior quality glass lenses
Long-lasting battery life
Click Here to check the current prices of the Trijicon MRO
Best CMMG Banshee Light
Adding a light to the CMMG Banshee can be a little tricky because of how short the handguard is. Usually, I mount a full-size weapon light with a pressure tape switch on all of my builds.
For the Banshee, I recommend a complete all-in on the system. That way, there are no extra mounts you need and a cable that takes up more real estate.
Cloud Defensive OWL LED Weaponlight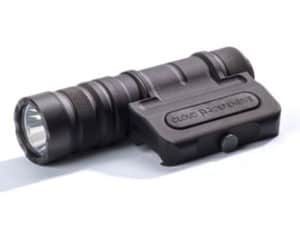 The Cloud Defensive OWL Weaponlight has been redesigned from the ground up to be a weapon light instead of the previous standard of adapting a flashlight to work as a weapon-mounted light.
These have no exposed wires or ports that would be subject to water or debris infiltration.
The light operates exclusively on 18650 batteries, so the electrical system is optimized for only one battery format instead of needing compromises for different battery types.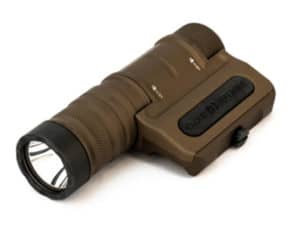 The unique 4000K light temperature penetrates photonic barriers like smoke, fog, and humid air and works with the physiology of the human eye for ideal situational awareness.
The best thing about this light is that it is a "one-and-done" setup. It's bright, simple, and only one part you need to buy.
Click Here to check the current prices of the Cloud Defensive OWL Weaponlight
Best CMMG Banshee Pistol Grip
When it comes to pistol grips, everyone usually has their own personal preference. For me, I always add the same one to all of my builds.
That way, I am familiar with and used to the pistol grip no matter what firearm I shoot.
Magpul MOE-K2+ Pistol Grip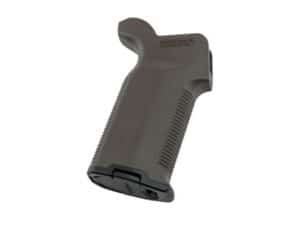 The Magpul MOE-K2+ Pistol Grip is by far the best pistol grip I have ever used and is my go-to for all of my setups.
It has the correct grip angle and also the perfect amount of grippyness. There is also a small storage compartment inside the grip.
The steeper vertical grip angle is optimized for use on Personal Defense Weapon (PDW)  configurations and improves comfort and control on short rifles that bring the primary hand in closer to the shooter's body.
It also comes in a few different colors.
With the rubber overmolding for positive weapon control, compatibility with optional storage cores for gear stowage, and a unique backstrap design for proper trigger finger placement, this is the best pistol grip for the CMMG Banshee.
Click Here to check the current prices of the Magpul MOE-K2+ Pistol Grip
Best CMMG Banshee Sling
No setup is complete without a good quality sling. There are a few different options as far as what type of sling to get for this gun.
I recommend a convertible sling that can quickly switch from a two-point to a single-point sling.
Blue Force Gear Vickers 221 2-to-1 Padded Sling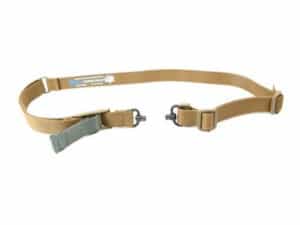 The best sling for the CMMG Banshee is the Blue Force Gear Vickers 221 2-to-1 Padded Sling.
While 2-point slings are ideal for most situations, there are times, like deploying from a vehicle or fighting in complex structures, when a 1-point sling has a clear advantage.
Combining a polymer socket and a swivel, the Vickers 221 Sling instantly allows users to switch from 2-point to 1-point mode by pulling on the RED Swivel knob and reinserting it into the Burnsed Socket at the rear of the receiver.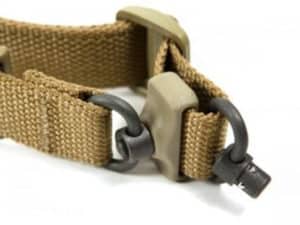 The instantaneous adjustability of the sling is still maintained in both 1 and 2 point modes.
This sling adds confidence to your setup and is made with superb quality that works very well. The adjuster hardware also comes in clutch when running drills and training. Overall solid buy.
Click Here to check the current prices of the Blue Force Gear Vickers 221 2-to-1 Padded Sling
Best CMMG Banshee Magazines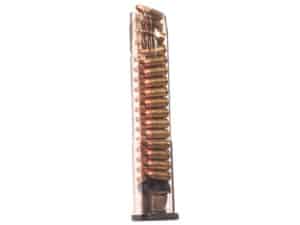 It is always a good idea to stock up on extra CMMG Banshee Magazines. This gun can accept Glock mags, which is a huge plus.
I personally try to have a total of seven magazines for every firearm I own at a minimum.
Click Here to check the current prices and availability of CMMG Banshee Magazines
Best CMMG Banshee Ammo
Finally, you need a lot of extra ammunition. The CMMG Banshee is a lot of fun to shoot, so I find myself burning through ammo quickly at the range.
Depending on the caliber you have will depend on what CMMG Banshee Ammo to buy.
I never let my stockpile get below 1000 rounds for every caliber I have a gun for. Prices always seem to get higher, so I try to buy in bulk when possible or whenever it is on sale.
Click Here to check the current prices and availability of CMMG Banshee Ammo
Complete List of Items Mentioned
(Click the links for the most up-to-date prices)
CMMG Banshee
SB Tactical SBA3
Law Tactical Folder Adapter
Elftmann Tactical AR-9 Trigger
Fortis Manufacturing Handstop
Sig Sauer Romeo 5
Holosun HS507C-X2
Trijicon MRO
Aimpoint Micro T-2
Cloud Defensive OWL Weaponlight
Magpul MOE-K2+ Pistol Grip
Blue Force Gear Vickers 221 2-to-1 Padded Sling
CMMG Banshee Magazines
CMMG Banshee Ammo
Have you added any accessories to the CMMG Banshee?
Did you initially start with an optic?
Let me know in the comments below.
Further reading on Firstworldcrusader.com: Are you interested in learning more about guns and gear?
This list of the Best Red Dot Sights can help you choose the best optic for your rifle.
In addition, here are the Best AR-15 Upgrades & Accessories that can help you get more out of your primary battle rifle.