When the U.S. Army launched their search for a Modular Handgun System back in 2015, a ton of companies stepped up to the plate. 
Thank you for reading this post, don't forget to follow and signup for notifications!
Though SIG Sauer would ultimately be rewarded the MHS contract with their M17/M18, most of the rest became available on the American civilian market, giving us many brand-new pistol options. 
Something similar is happening right now, but instead of offerings for DoD and soldiers, it's a smattering of European police contracts. A number of new designs are popping up across the continent, some of which will hit American shores. 
Today, we bring you the latest from Arex in Slovenia; though it may be designed with police in mind, you can still grab one for yourself.
The Arex Zero 2 is the next generation line. Though the Arex Zero 2 looks an awful lot like the Zero 1 — and both look like the P226 — there were some major overhauls and updates between the two pistols. 
In fact, we're told Arex started with a new, fresh sheet of paper. The Zero 2 has a thinner profile for both the slide and grip. All told, you're looking at a 15-percent decrease in surface area on the grip itself. 
The Zero 2 has deeper, more aggressive serrations on the fore and aft of the slide compared to the Zero 1, a great improvement, and is generally sleeker and more stylish. 
Because Arex started clean, upgrading, slimming, and reinforcing where they could, parts compatibility between the two generations isn't 1-for-1. 
Some trigger components will interchange, as well as magazines, guide rods, and recoil spring assemblies — but not much else. 
Though aesthetically the Zero 2S looks a lot like a P226, the controls are a little different. The frame-mounted ambidextrous safety sits high and out of the way of the hands, about where the slide release lives on a P226. 
With the safety on, the slide can still be manipulated, and instead of a frozen trigger when it's engaged you get a dead one. It takes some getting used to (much like Euro rifle selectors), but it's just different, not bad.
The included sights have sharp horizontal cuts to reduce glare, and the front sight has a lone white dot for contrast.
The decocker serves double duty as a slide release. Now, this may give one some pause, but it's very difficult to accidentally decock the hammer when dropping the slide — it takes a separate, extra action. The decocker also works regardless of the safety position. "Cocked 'n' locked" is no issue with this one. 
Our gauge measured the double-action trigger pull at 10.5 pounds, with single-action averaging just a hair over 4 pounds. Trigger snobs won't be in love with it, as there's some take-up and slack in either position, but those used to Mil-spec two-stage triggers will feel right at home with the predictable break.
The Zero 2S bumps up a capacity a bit, with 18+1 rounds being standard rather than the 17+1 of the Zero 1. Tactical models will ship with extended baseplates with higher capacities. You can safely look at the Arex Zero 2S magazines as a mashup between the same from the P226 and the CZ-75. 
The magazine bodies themselves have that MecGar shine, and indeed MecGar manufactures the bodies. For the rest, Arex has all of their own plastic injection molding machines, making perfect sense for a company with a bias toward vertical integration. 
With those machines, they produce basepads, high-vis followers, and some other molded parts like the grip. 
Speaking of grips, the Arex Zero 2 ships with polymer grips that are textured but won't wear through your shirt. The pattern is an asymmetric pentagon, not dissimilar to that seen on the reticulated giraffe. 
There's a small scallop on either side leading to the truly ambidextrous magazine release. The magwell has a bevel to aid insertion without going full ice cream cone. 
Though we wouldn't call them finger grooves, there are some tasteful scoops combined with checkering along the front of the grip. The front of the trigger guard also has some texturing, if you're into that sort of thing. 
The back of the grip features a lanyard loop, reflecting a bit of that duty pistol design. 
OUTFITTING
While the American market has gone whole hog on pistol dots, it's taking the rest of the world a little time catch up. However, by the time you read this article, an optics-ready model of the Arex Zero 2 may well be on shelves. 
In the meantime, of course, we'll make it happen anyway. 
The Arex Zero 2S shares dovetails with the SIG P226. That in and of itself isn't terribly shocking, given how much the aesthetics are aped from that classic, but the P226 dovetail is also the same as the P228, P229, P2022, P320, Arex Delta Gen 2, FN 509, Springfield XD, and more. 
If we really wanted to place our finger on a real proliferating dovetail standard in the world, this would be it.
There's zero chance you'll find a red dot adapter labeled, "Arex Zero 2," but you might find one that says "P226." And you most certainly can find one for the Springfield Armory XD. Since they share dovetails, we thought an optic mount might work too. 
Now, just because something fits in a dovetail doesn't mean it'll actually work properly, but we can tell you outright that yes, you can roll with a "XD" label here.
Like so many times before, we turned to the aftermarket for an optic mounting solution. Though DPP Titanium Accessories may have seemingly sprung from the Chinese manufacturing well of Amazon and eBay, that doesn't mean everything's garbage. 
The DPP Titanium mount is single piece, carefully avoiding the pitfalls (and additional fasteners) of most plate-and-dovetail mounting systems (see CONCEALMENT Issue 26). Furthermore, it has handy recoil bosses, is machined from titanium, and costs a mere $37 (or $22 for aluminum).
While the mount we purchased was designed for an XD and a Noblex (Fastfire) footprint, we decided it'd be a better idea to attach a sealed reflex sight. Stacking adapters can be a tenuous thing, but in for a penny, in for a pound. 
The Aimpoint ACRO P2 was the optic of choice. Yes, it sits a little higher. But no, it doesn't really matter. For hard military duty, perhaps a belt and suspenders approach would be appropriate, but for on your hip or on the range, some minor training with alternative sighting methods can go a long way (see CONCEALMENT Issue 23).
Sealed reflex sights have many advantages relative to open-emitter dot optics. They're more durable, have easily swappable batteries, and aren't anywhere near as large as they look when riding about your waist. Furthermore, thanks to their sealed internals and air jackets, they're better at shrugging off fog, dust, and other environmental effects. 
They're also much easier to center-up on target relative to an open emitter, which helps should the stars align and you end up killing one.
For a weapon-mounted light, we went with a SureFire X300U-A. While there's been a lot of new/shiny going on in the WML market, the SureFire remains a solid choice for any pistol that may see hard use.
ON THE RANGE
Despite the grip being 15-percent smaller than the Gen 1, it's still relatively large compared to your typical double-stack drastic plastic pistols. Those with stubbier mittens may find control manipulations better performed with the support hand. 
We found this gun to be a little more fun to shoot precisely because it didn't work with all ammunition right out of the box. It's commonly thought that if you're producing a pistol for the American public at large, it needs to eat all the crap. 
But if your carry gun gobbles the pipsqueak stuff, it'll also hammer the hell out of you when you shoot anything with more power. There's always a trade-off. Longevity of recoil springs is another consideration. 
The first few hundred rounds we put through were Belom 124-grain FMJs manufactured in Serbia, and there were no issues to speak of. We zeroed at 15 yards with the Aimpoint Acro, and soon targets at 50 yards were no problem. 
115-grain Walmart Winchester White Box was a fantastic training load for the Zero 2S, because it just barely cycled the slide, and the alloy frame soaked up the recoil. The Arex Zero 2S didn't like flat-nosed or hollow point subsonic ammunition with the factory recoil spring assembly. 
It didn't run on the 147-grain CapArms 9mm we have, but almost nothing in the safe does so those failures were far from novel.  
One advantage of a non-captive recoil spring assembly is that swapping the factory 20-pound unit takes about a minute, and lightly modified P226 springs will work. While you should always test your chosen ammo before carrying, it's especially important here. 
The high-visibility followers are easy to spot when an empty mag is tossed on the ground and much more attractive to your eyes when glancing into the ejection port. 
LOOSE ROUNDS
The aftermarket makes or breaks imported guns, and you can't count on reliably sourcing parts and other components made in other countries unless they're already in-hand. While there's a list of categories and "allowed" feature sets on imported arms, all firearms imports are subject to the whims and whimsy of whoever's holding the highest office. 
All of this to say that if something you have your heart or eyes on is imported, you're better off making that purchase sooner rather than later. 
All this heavy-duty equipment combined with the higher price tag is a reminder that the Arex Zero 2S is a gun merely being imported to the United States, rather than a gun specifically intended and designed for the United States. 
Grand Power put pen to paper on this design with European police and military units in mind, not CCW in Montana. We like this gun, how it handles and shoots, and the improvements over the Zero 1, but admittedly it may be a bridge too far for some. 
With an MSRP of $849, spare parts an ocean away, limited aftermarket support for the time being, and all of this without an optics cut … This is a gun you buy because you want it, not because it's the most pragmatic — and since most reading this are in America, that's damned good reason enough. 
SPECS:
Grand Power Arex Zero 2S
Caliber: 9mm
Capacity: 18+1
Barrel length: 4.25 inches
Height: 5.6 inches
OAL: 7.8 inches
Weight: 28 ounces
MSRP: $849
URL: GlobalOrdnance.com
MORE READING: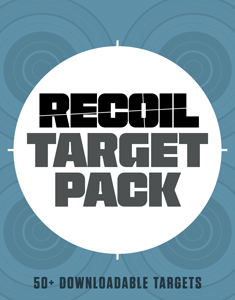 NEXT STEP: Download Your Free Target Pack from RECOIL
For years, RECOIL magazine has treated its readers to a full-size (sometimes full color!) shooting target tucked into each big issue. Now we've compiled over 50 of our most popular targets into this one digital PDF download. From handgun drills to AR-15 practice, these 50+ targets have you covered. Print off as many as you like (ammo not included).
Click here to get IMMEDIATE ACCESS to a digital PDF of this target pack!